Video: 3 Considerations when selecting an Employee Benefits Consultant
15-Oct-2013
by BenefitDeck
clicks:
3095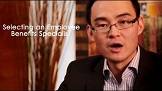 In this video, we start with a question:
Who would you rather have perform surgery on you? A general practitioner, or a specialist surgeon? Choosing your Benefits Plan Consultant / Employee benefits advisor is the same. In this video, we will share with you 3 easy steps in selecting a health insurance consultant and advisor. In summary, they are: Expertise, Service, and Cost.
1. Expertise: how many benefits policy has your advisor put together, are they current in their knowledge in this complex and changing field. Do they have designations such as Certified Employee Benefits Specialist (CEBS) which means that they went through a post-graduate designation program for over 4 years after undergrad.
2. Service: after your policy is in place, who will be your main point of contact? Does your advisor/consultant's firm have staff to handle your staff's claims inquiries? Or do they rely on the insurer, who may make you wait to get an answer.
3. Cost: If your advisor does not have volume with the suppliers, you will pay more. Find a consultant who has proven to have helped many other companies such as yours with their policies. Ask them how many current clients they have, and references. Check their testimonials.
For more info, contact us for a consultation today.