Webinar: Health Care Benefit Programs Exclusively for Digital Alberta Members
08-Mar-2013
by BenefitDeck
clicks:
4180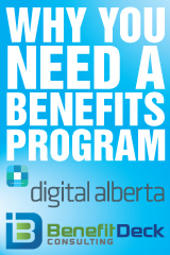 Register for our upcoming Live Health & Wellness show on July 25, 11am (30 minutes) here:
5 ways to motivate your employees to wellness.
This video summary (12 minutes) captures the highlights of the 1-hour webinar held on Feb 22, 2013.
Digital Alberta members: Why you need a Benefit Program.
This is the 10-minute summary of the webinar that took place in March 2013. For the full hour archive, click here:
http://new.livestream.com/WarRoomInc/WhyYouNeedABenefitProgram
More info:
http://www.digitalalberta.com/benefitdeck-health-care-benefit-programs-exclusively-digital-alberta-members